If you need to put a divider, lining or coating in your home or office and do not have much time to make a reform, the best option is the drywall.
Known as plasterboard, it is a material that does not need water added at the time of conception, and ensures a quick and clean installation. It also generates a much smaller amount of slag: about 5% compared to other materials. Moreover, the material needs planning before application.
The great advantage of the drywall in relation to the masonry is the ease in rapidly changing layouts (drawings). Therefore, there is a preference for the material to divide spaces in residential and commercial buildings.
The only restriction is to structural walls, weight bearing, in which the material is not recommended. A benefit of the drywall is the possibility of installing lighting systems, hydraulic and telephony inside its structure even at the assembly stage, which avoids a possible "jigsaw puzzle" masonry walls.
On the outside, its appearance is a brick wall. Inside, it combines galvanized steel structures (steel subjected to a chemical process to protect it from corrosion) with high mechanical strength and acoustic plaster plates. The use of drywall sheets are quite versatile and can be used to create accessories as niches, closets and shelves. Moreover, there are different types of plates, being basic:
– White: used in any dry environment;
– Green: suitable for wet areas such as bathrooms, laundry area and kitchen;
– Rose: used in exits and emergency stairs, it is resistant to fire.
The architect and interior designer Mario Catani explains that the application of drywall is made on a screw structure and then covered with dough for drywall, covering the gaps between the plates and bolt marks. There are different structures for lining and walls. They can also be used as a wood rafter structure for the plaster plates.
Advantages of reform with drywall
Quick and clean installation: partition walls take from 24 to 28 hours to fully ready, and generate very little debris. Thus, maintenance and repairs are also made ​​faster.
Versatility: drywall allows many solutions, such as the curves and indentations for recessed lighting.
Finish: in addition to accept any type of finish (paint, texture, tiles, lozenges, marble, granite, wallpaper, wood paneling etc.), the material provides precision in measurements and flawless finish.
Noise: the system contributes to the sound insulation and reduction of noise transmission.
Make more space: drywall walls are narrower than those of other materials, such as bricks or blocks. Therefore, there is a useful area gain of about 5%.
Tags: construction, home decor, interior design, drywall
Gallery
Insulated Garage Door Installation & Ventilation Benefits …
Source: garagedoorprosmi.com
Interior shop building wall finish thoughts/pics
Source: www.practicalmachinist.com
pole barn interior finishing
Source: brokeasshome.com
Gypsum Wall Board
Source: www.sutoracoustical.com
USG Design Studio
Source: www.usgdesignstudio.com
Kistler Buildings
Source: www.kistlerbuildings.com
Six Tips on How to Build a Pole Garage
Source: wickbuildings.com
tyvek Archives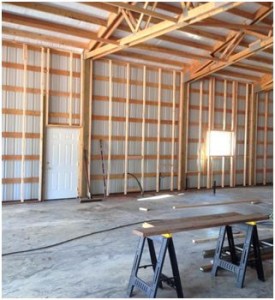 Source: www.hansenpolebuildings.com
Nextgen Dry Lining | Suspended Ceilings
Source: nextgenfinishing.co.uk
Ceiling Joints Showing
Source: www.energywarden.net
USG Design Studio
Source: www.usgdesignstudio.com
Shop
Source: stcsoundcontrol.com
Best 25+ Exposed basement ceiling ideas on Pinterest …
Source: www.pinterest.com
Marvel Homes
Source: www.facebook.com
Finished Pole Barn Homes
Source: www.shv-handball.org
Preservation 101: PLASTER
Source: preservationarchitect.wordpress.com
Plastering – Page 84
Source: build-x.info
Cinder Block Pool Construction
Source: www.pinterest.com
Delamination Abdullah AL-Mohaimmeed Definition The act of …
Source: slideplayer.com
Biotecture-Straw Bale Homes
Source: middleearthhome.com